National Project Scholars
Deborah Amos, National Public Radio
Deborah Amos' reports can be heard on NPR's award-winning Morning Edition, All Things Considered, and Weekend Edition. Amos joined NPR in 1977, first as a director and then a producer for Weekend All Things Considered. Amos joined ABC News in 1993 and spent a decade in television, reporting for ABC's Nightline and World News Tonight and the PBS programs NOW with Bill Moyers and Frontline. Upon returning to NPR, Amos took up the post of foreign correspondent in Amman, Jordan and then London Bureau Chief. Amos won widespread recognition for her coverage of the Gulf War in 1991. A year later, she published Lines in the Sand: Desert Storm and the Remaking of the Arab World (Simon and Schuster, 1992). She is a former Nieman Fellow at Harvard University, has taught journalism at Princeton University, and is a member of the Council on Foreign Relations. Her latest book is Eclipse of the Sunnis: Power, Exile, and Upheaval in the Middle East (PublicAffairs, 2010).  She lives in New York City.
Leila Golestaneh Austin, Johns Hopkins University
Leila Golestaneh Austin is Professorial Lecturer in Global Theory and History and Middle East Studies at Johns Hopkins University's Paul H. Nitze School of Advanced International Studies (SAIS) where she also directs the Cultural Conversations project at the Foreign Policy Institute and co-directs the Global Politics and Religion Initiative. Dr. Austin's research interests include the role of religion, literature, and political culture more generally in defining politics and policy-making, and the history and politics of the Middle East and North Africa.  She received her Ph.D. in political science from Columbia University and her M.A. in International Affairs from SAIS.  Dr. Austin's most recent articles include: "The New Opposition in Iran" (2010) and "The Politics of Youth Bulge: From Islamic Activism to Democratic Reform in the Middle East and North Africa" (2011).
Giancarlo Casale
Giancarlo Casale holds a PhD in History and Middle Eastern Studies from Harvard University, and is currently associate professor of the history of the Islamic World at the University of Minnesota, where he has taught since 2005. He is an expert in Ottoman history, early modern empires, and the history of geography and cartography. His book, The Ottoman Age of Exploration, was awarded the Cundill Recognition of Excellence prize in 2011.
Frederick M. Denny, University of Colorado
Frederick Mathewson Denny is Professor Emeritus of Islamic Studies and History of Religions in the Department of Religious Studies at the University of Colorado at Boulder. An alumnus of the College of William and Mary and Andover Newton Theological School, he also holds M.A. and Ph.D. degrees from the University of Chicago and has previously held teaching appointments at Colby-Sawyer College, Yale University, and the University of Virginia. He has conducted field research on Qur'anic recitation, Muslim popular ritual, and the characteristics of contemporary Muslim societies in Egypt, Indonesia, Malaysia, Pakistan and North America. His publications include a widely used college level textbook, An Introduction to Islam (4th ed. Pearson Prentice Hall, 2010) and several edited volumes. He is founding editor of the scholarly book series "Studies in Comparative Religion" at the University of South Carolina Press. He was lead editor for the second edition of Atlas of the World's Religions(Oxford University Press, 2007). Denny served for eleven years on the Board of Directors of the American Academy of Religion.
Kambiz GhaneaBassiri, Reed College
Kambiz GhaneaBassiri is an Associate Professor of Religion and Humanities at Reed College. He received his bachelor's degree in Religious Studies from Claremont McKenna College and completed his master's and doctoral degrees in Islamic Studies at Harvard University. GhaneaBassiri's scholarship stands at the intersection of religious studies, Islamic social and intellectual history, and American religious history. His most recent book, A History of Islam in America (Cambridge University Press 2010) traces the history of Muslim presence in the United States through colonial and antebellum America, through world wars and civil rights struggles, to the contemporary era. His work has been supported by fellowships from the Carnegie Scholars Program (2006-2008) and the Guggenheim Foundation (2012).
Peter Mandaville, George Mason University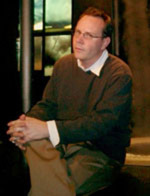 Peter Mandaville is Director of the Ali Vural Ak Center for Global Islamic Studies and a professor of public and international affairs at George Mason University. He is also a Nonresident Senior Fellow with the Project on U.S. Relations with the Islamic World at the Brookings Institution. From 2010-2012 he served as a member of the Secretary of State's Policy Planning Staff, helping to shape the U.S. response to the Arab Spring. His other affiliations have included the Pew Research Center and the RAND Corporation. Born and raised in the Middle East—the third generation of his family to live in the region—his research has taken him across all major regions of the Muslim world. His books include Global Political Islam (2007) and Transnational Muslim Politics: Reimagining the Umma (2001).
D. Fairchild Ruggles, University of Illinois at Urbana-Champaign
D. Fairchild Ruggles is Professor in the Department of Landscape Architecture at the University of Illinois at Urbana-Champaign. She received her A.B. in Visual and Environmental Studies from Harvard and M.A. and Ph.D. in the History of Art from the University of Pennsylvania. She has taught art, architectural, landscape, and cultural history at universities that include Cornell, Binghamton, and Harvard. Her first book, the award-winning Garden, Landscape, and Vision in the Palaces of Islamic Spain (2000), explored the complex cultural conditions that gave rise to the built landscape of al-Andalus, and in her award-winning Islamic Gardens and Landscapes (2008), she extends this to the Islamic world as a whole. Her other publications include a series of volumes on cultural heritage, and Islamic Art and Visual Culture: An Anthology of Sources (2011).